Come out and support us while we host the POW/MIA Reconition Day Ceremony Friday, September 15th at 6:30PM at the Vitenam Memorial, Lejeune Memorial Gardens.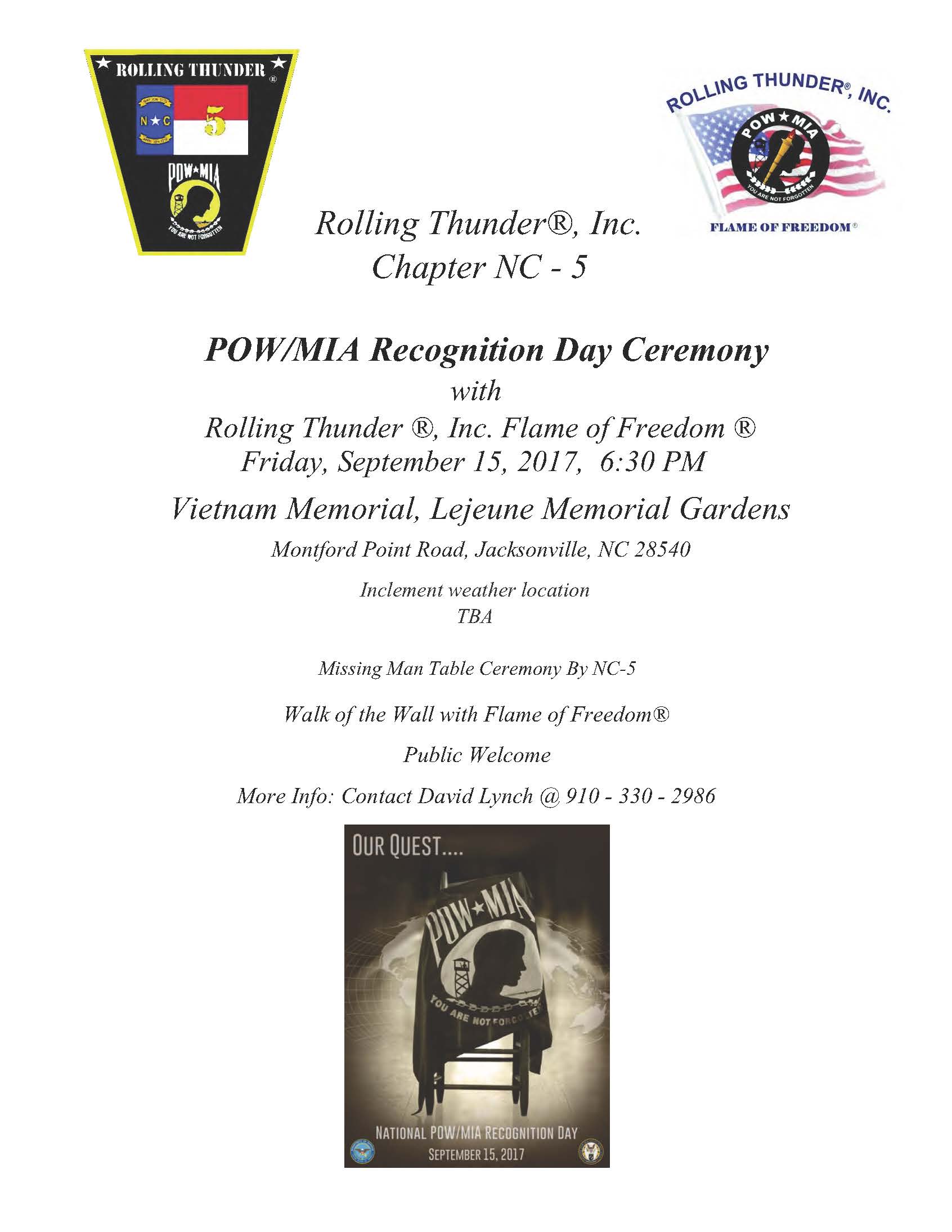 ACTIVITIES OUTSIDE OUR CHAPTER (This and more is posted on the Other Events Calender)
5th Aug 2d Annual Gold Star Mothers Ride from Fayetteville to Jacksonville American Legion, CVMA hosting
16th Aug TV screening of Vietnam War Documentry at the DAV Hall 7pm
18-20 Aug Woodstock, Veterans Revenge, Patriotic Music and Show, Kinston
26th Aug Montfort Point Marines, Memorial Ride 0900
23rd Sept Wreaths Across American, annual ride, NRHD
30th Sept Retiree Appreciation Day with breakfast and lunch
Below is an invitation for a program that American Legion Post 210 is sponsoring for a Fallen Soldier from our community. On August 27, 2016, a portion of Highway 86 from Yanceyville, NC to Danville, VA was dedicated as " The SGT Colby Richmond Memorial Highway". Post 210 will continue to honor the ultimate sacrifice and the service of SGT Colby Richmond with an Annual Freedom Ride of the dedicated Highway. Please find a personal invitation attached and a flyer that we would appreciate your assistance with disseminating within your network of veterans and other Bikers' organizations. The ride will take place immediately after the program. Registration is $20.00 per biker and $10.00 for a rider with each receiving a coupon redeemable at the Music Fest for food and drinks. All proceeds go to programs that directly benefits Veterans and Youth programs.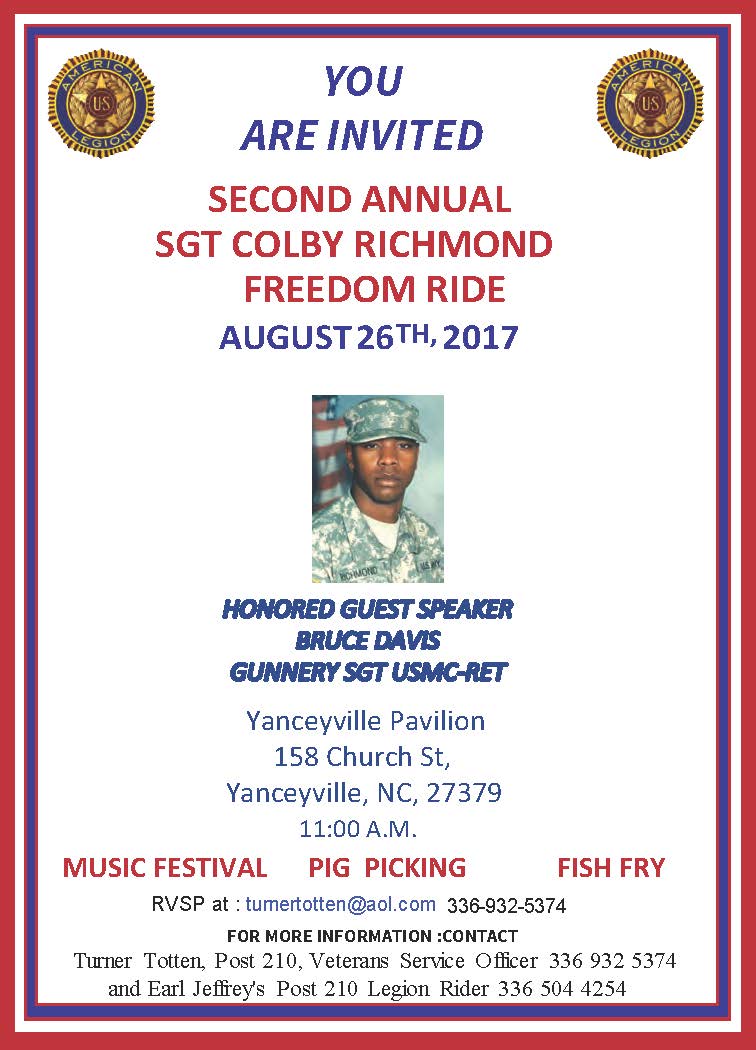 Background: In response to the 9/11 terrorist attacks, Congress passed the REAL ID Act in 2005 to establish minimum security standards for state-issued driver licenses and IDs to help prevent fraudulent identification. North Carolina is currently issuing Optional Real ID complaint driver's license and ID cards. You will need the additional documentation should you desire to obtain the currently Optional Real ID compliant card. On Oct. 1, 2020, the Transportation Security Administration will enforce tougher security standards at airport check-ins and federal buildings and installations, and nuclear facilities.
Federal agencies will also begin requiring REAL ID-compliant licenses and IDs for admission to a variety of federal facilities. North Carolina is currently issuing two kinds of Driver's License / Identification Cards. One has a 'Gold Star' next to the title "DRIVER LICENSE" or "IDENTIFICATION CARD" indicating the license is compliant with federal requirements and identifies you as a verified US citizen . The second license/ ID Card has the phrase "NOT FOR FEDERAL IDENTIFICATION" displayed under the title DRIVER LICENSE / IDENTIFICATION CARD.
In order to obtain a North Carolina Real ID compliant card, you must present the five identifying documents as shown on the attached file at the licensing office. It would probably be wise to renew with the Real ID-compliant card and save your self some time.
The N.C. REAL ID will soon make it more convenient for you when you need to board a commercial airplane or visit a military base or other federal facility. Beginning in 2020, federal agencies will enforce tougher security standards at airport check-ins and federal buildings, and military installations. You'll still be able to board flights and enter federal facilities, but you will need to provide your license or ID along with some additional documentation.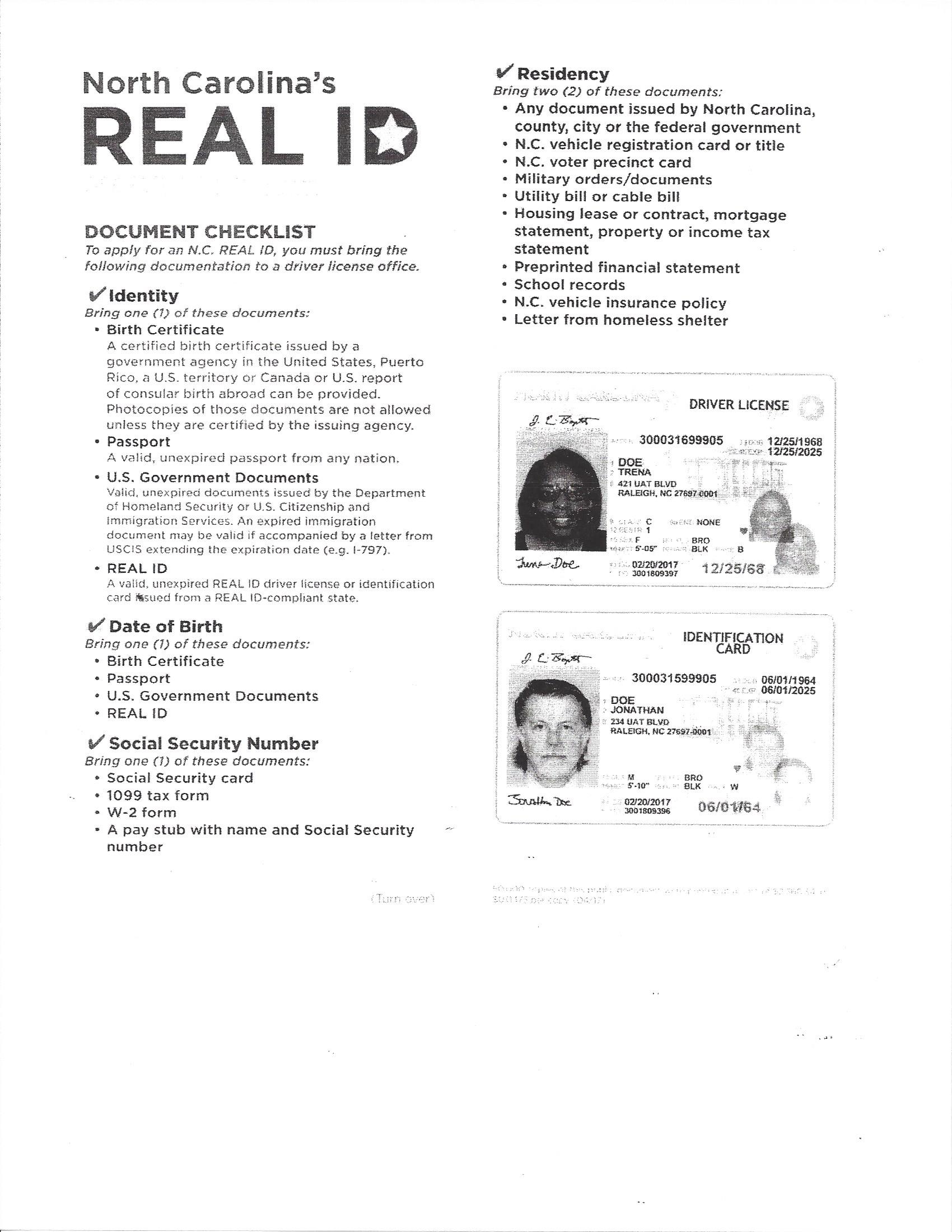 Contact your Representative, call, meet with them, or email their  DC and DISTRICT office and  tell them to Cosponsor H.R. 504.
H.R. 504's purpose is to amend title 36, United States Code, to require that the POW/MIA flag be displayed on all days that the flag of the United States is displayed on certain Federal property.
Sponsor is Lance, Leonard [R-NJ] and cosponsors are Rep. Jones, Walter B., Jr. [R-NC] and Rep. Rice, Kathleen M. [D-NY]
Latest Action: 02/06/2017 Referred to the Subcommittee on the Constitution and Cival Justice.
H.R. 1379's purpose is to amend title 38, United States Code, to provide for the entitlement to educational assistance under the Post-9/11 Educational Assistance Program of the Department of Veterans Affairs for members of the Armed Forces awarded the Purple Heart.
Sponsor is Rep. Peters, Scott H. [D-CA] and cosponsors are Rep. Walz, Timothy J. [D-MN], Rep. Mast, Brian J. [R-FL], and Rep. Bergman, Jack [R-MI].
Latest Action: 03/09/2017 Referred to the Subcommittee on Economic Opportunity.