Rolling Thunder North Carolina Chapters are actively involved with creating a N.C. POW/MIA License Plate to raise awareness of the tens of thousands of Americans who remain unaccounted for from previous wars. PLEASE help us with this initiative by pre-ordering a plate for your vehicle or motorcycle so we can make this happen. Contact any officer of a NC Chapter near you or contact RTNC-5's webmaster at webmaster@rollingthundernc5.com

With your help, we should be able to hit 500 pre-orders to make this happen. If we cannot reach 500 pre-orders across the state of North Carolina, everyone will get their $20 pre-registration fee back.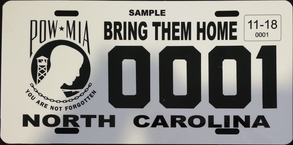 ---
JACKSONVILLE, Onslow County - A veterans support organization in out area is fighting to get a POW/MIA license plate approved in North Carolina.

Rolling Thunder is raising awareness for service members still missing in action or lost as prisoners of war and are pre-selling license plates in order to do so.

The group needs to pre-sell 500 license plates before the General Assembly for legislative action.

"There's a closure issue -- not only with the families, but advocates like us that say, you know, we can't forget this," Rolling Thunder Inc. NC State Liaison Paul Levesque said. "We need to raise awareness and let the public know there's over 80,000 still missing since World War II.

If you're interested in pre-ordering one of the license plates, you can

visit their website for more information

.

​

Rolling Thunder hopes tog et this in front of the General Assembly by February of 2018.